Posted By Melissa on June 10, 2009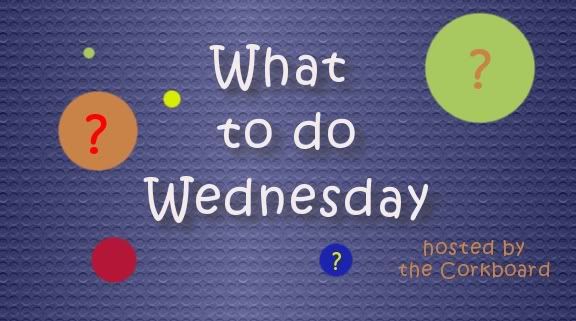 Welcome to the first week of What to do? Wednesday.  Summer is upon us ,mommas, and I'm sure I'm not the only one to be wondering what I'll do to keep my children (ages 6, 4, and 2) occupied all summer or even if they'll all come out alive.  I started thinking more strategically about my summer when I mentioned inventor's camp for our oldest and my hubby nixed it saying I could do whatever they were going to do with him myself.  He continued on to criticize camps saying they were just an excuse for parents to dump their kids for the week…DUH! 
So since camp (in the traditional sense) is out, I got busy thinking of how I could be proactive at heading off the inevitable "I'm boreds" and "There's nothing to dos."  I'll share my ideas if you share yours…deal?
Here are the rules guidelines…
1.  Every Wednesday post a fun (even inexpensive) day trip, creative craft project, science project, kid-friendly cooking experience, or other acrobatic you used to keep your children entertained.  Activities for all ages (infants through high school) are welcomed.
2.  Please use the code below to display the What to do? Wednesday graphic which links back to the Corkboard.  Mentioning the Corkboard in the text of your post would be a plus, too, but I'm not going to be picky.
3.  Add your blog using Mr. Linky at the bottom of this post.  Don't have a blog?  You can just leave a comment.
4.  Have fun!
——————————————————————————–
<insert child's name here> the Builder
There's something magnetic about tools…especially the real ones.  My kids are forever wanting to be "just like Daddy."  Why they wouldn't want to strive to be like their Type-A, over-planning, sleep-deprived, chore-assigning, veggie-pushing, order-giving, crazy momma is beyond me.  Well here's a project that will keep them busy for at least minutes.
1.  Start with a brick of dense foam.  I used the kind found in the fake flower aisle of our local craft store.  Not the kind that disintegrates when you touch it, the other kind.  The packaging looked like this.  You can also use the pink stuff from home improvement stores.
2.  Cover it with felt.  I used hot glue to secure most of it with a nail on either end for the thicker parts.  Feel free to adlib here to make it work for you.
3.  Steal borrow some of DH's golf tees (or stop by the sports store on your way back from the craft store).  Dig around in the toy chest for a plastic hammer.  For readers from Steamed Crab Country, you can also use wooden crab mallets.
4.  Sit back and enjoy watching your <insert your child's name here> the Builder, hammer "nails" into "wood."  It's a great hand-eye coordination builder if you're a half-pint (or a great stress-reliever if you're a full pint).
 Now, go link away.  I'd love to know what you're up to.  The success of our summer might depend on it!